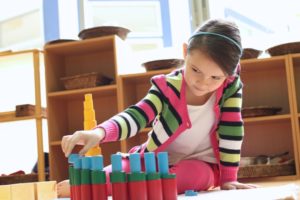 With 45 years in early childhood education, there are countless reasons to choose Apple Montessori Schools for the apple of your eye. Apple Montessori inspires a lifelong love for learning and has fostered the unique potential of tens of thousands of children since 1972.
If you're considering enrolling your child in Apple Montessori but aren't quite sure yet if it's the right choice, let us help get your over the hump. Here are the top reasons to choose Apple Montessori Schools.
Whole-child learning: The Apple Montessori whole-child approach to learning is designed to make your child feel happy, safe and be successful in school and beyond.
Experience: Family owned and operated since 1972, Apple Montessori has set exceptional standards in early childhood education. Apple Montessori has taught multiple generations of families and some former students have even become members of the staff.
Safety: All Apple Montessori Schools have been safety certified by Secure Education Consultants.
Highly trained staff: Apple Montessori's highly trained team of educators are hand-picked for their unique abilities to "follow the child" as early education guides. Apple's teachers help children be their best selves on a holistic level. Our team members love children and they love what they do. In fact, 83 staff members have been with Apple for five or more years.
Curriculum: Apple Montessori's Plus curriculum includes lessons in practical life, sensorial, history, geography, math, science, technology, and language. With Apple's proprietary reading programs, most children can read by age 4.
Parent involvement: Apple Montessori values its partnership with parents and shows it by offering parenting seminars, resources, observations, conferences, daily e-reporting, and school events.
Enrichment programs: The enrichment programs at Apple Montessori Schools include art, music, character education, yoga, baby signs, foreign language, and advanced technology.
A better future: Research has shown that Apple Montessori graduates are highly sought out by top secondary schools.