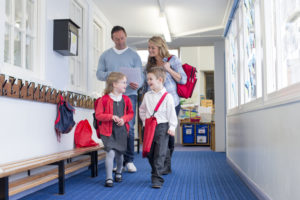 Choosing the right preschool for their child is one of the most important decisions parents can make. When parents leave their child at school, they want to know that they are safe, happy and learning. But outside of the basic expectations, what are parents really looking for in their child's school and what do they expect from their teachers?
Communication
Parents want to feel connected to what's going on at school, which can only be achieved through effective communication. At Apple Montessori Schools, we value our partnership with parents greatly and help foster communication between our staff and the parents of our students by offering parenting seminars and resources, observations and conferences, daily e-reporting and school events.
Whole Child Development
The early, developmental years of a child's life can be crucial to their growth and in turn lay the groundwork for the rest of their lives. Parents want a preschool that helps their child develop across all developmental areas. A preschool program should instill in a child a love of learning, independence, creativity, respect, and compassion for others while helping him or her hone their natural abilities. Exposure to engaging activities and art forms can help teachers identify a child's talent in certain areas early on and help them reach their fullest potential. Apple Montessori Schools offer a comprehensive curriculum that includes practical life, sensorial, history, geography, math, science, technology and language, as well as distinctive enrichment programs such as art, music, character education, yoga, baby signs, foreign language and advanced technology.
Passionate Teachers
Parents will view teachers as an extension of what goes on in the classroom on a daily basis. A passionate and experienced teacher can make a huge difference when it comes to parents entrusting a preschool with the well-being of their child. The teacher's passion and excitement can also be contagious and help get students more involved. Our schools are staffed with highly trained educators who are hand-picked for their unique ability to help children feel challenged, happy, safe and loved. Eighty-three staff members have been with Apple Montessori Schools for five years or more.
Safety
Now, I know safety was on the list of 'basic expectations' that was laid out already, but it is such an important criteria when it comes to parents looking for the right school for their child that it bears repeating. Parents will not send their child to a school that they don't feel is safe. Our schools are safety-certified by Secure Education Consultants, former United States Secret Service agents. Furthermore, our parent safety perks also include parent live video monitoring, biometric check in/out, and hospital-grade germ sanitizers.
At Apple Montessori Schools we help children reach their fullest potential. With more than 25,000 graduates from our preschool through elementary grades, children follow their own passions at their own pace with engaging hands-on materials. For more information about our schools, please visit us at https://www.applemontessorischools.com.